21st May 2020: 1000 Schools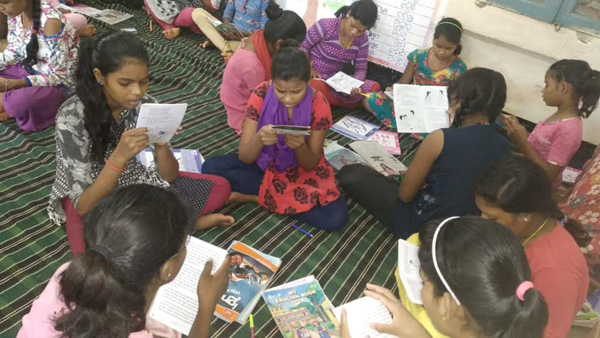 As Odisha and Bengal recover from the cyclone Amphan, and travails of people walking on the roads intensify further, we try to bring some cheer!

In our drive to bring the best resources to children in our program, we were introduced to the finest children's literature from countries such as Norway, Sweden, Finland, The Netherlands, Belgium and Switzerland, by Arvind Kumar and Arundhati of A&A Books. For years Arundhati has been scouring these countries for books appropriate for Indian children, building up a rich repertoire.

Odiya translations of these wonderful books are now brightening thousands of classrooms. We have initiated 3800 school libraries in our program, and reached 1,35,000 books into the hands of children. Books are no longer under lock and key, but surround the children, hanging on strings on the walls of their classrooms. Books are woven into learning, read for fun, and even taken home by the children. And children do not spoil any books, mind you! They cherish them.

20 blocks in Odisha & Jharkhand.



October 2019: Celebration of Creativity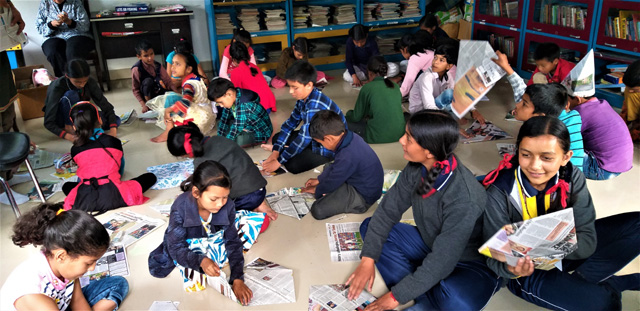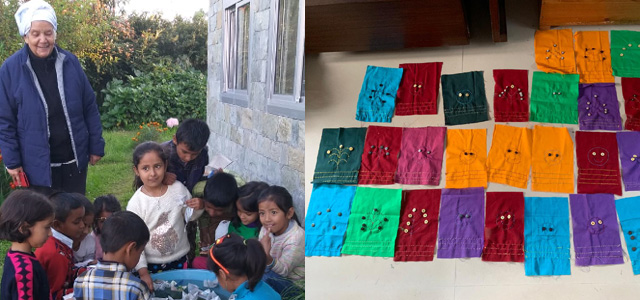 Kalpana Shah and Suneeti Jain, with the assistance of Kshipra Jain, held a series of hands-on skill workshops on Fabric painting, Warli art, Basic Embroidery, Origami, and Play-acting for children from 5th-11th October. These skills were a complete novelty to children and they adopted those commendably. These coincided with the children's Navratri break from the school, so the participation was doubly enthusiastic.



2nd Oct 2019: We Took the Oath to Keep Our Village Clean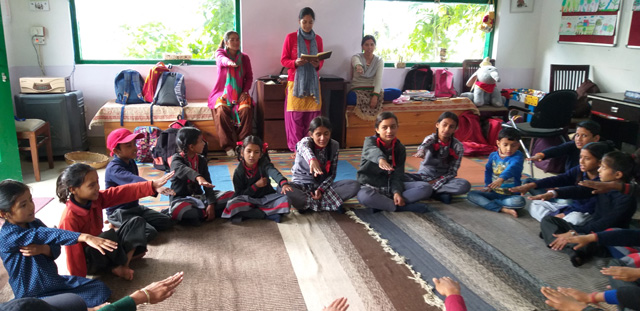 On the eve of Gandhi Jayanti, we took the beautifully worded pledge to keep our village clean. There was an open dialogue on Gandhiji's value-based contribution to the freedom movement. Talking of his experiments with truth, 2-3 stories surfaced around our children Nikita, Radhika and Piyush who faced some critical moments and they each chose truth over a lie that could lead to success.

In the case of Nikita, the stakes were really high. It was the Navodaya exam which could be a turning point in her life. But Nikita chose not to play unfair and she got selected!! On days like this, the struggle which feels like an obstacle race, full of knocks becomes all worth it!! All the three self-effacing kids are the students of a local NGO Chirag, and our library too!!



September 2019: Books from Chile join Indian Libraries in India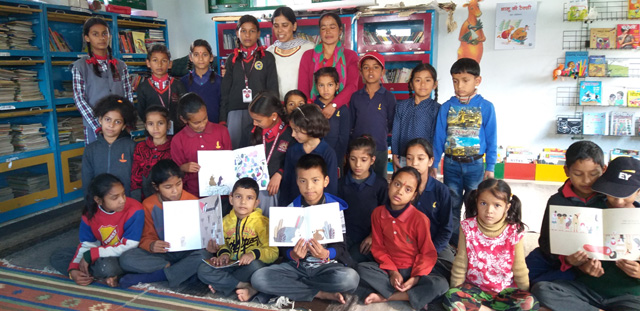 We did have a ceremonial launch of books from Chile, in Delhi, on September 13th and the welcome these got in our library on the Sptember 24th, was equally warm!! Children also got to know about Chile and her culture... Now Chile is not just another country on the world map, she is a new friend who has joined us in India!



Chilean Books into Hindi for Indian children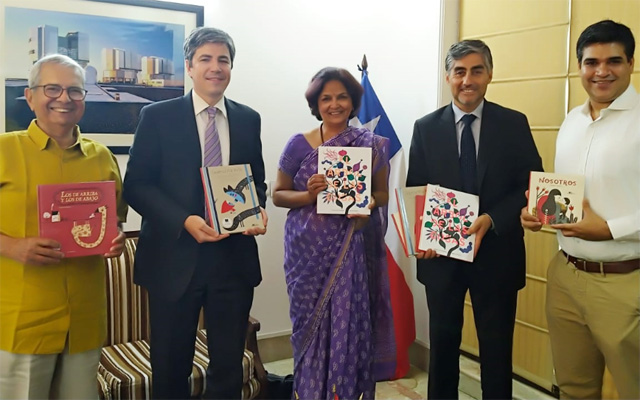 To celebrate the 70th year of friendship between Chile and India, we are in collaboration with the embassy of Chile bringing out 4 picture books into Hindi. These are:

Caperucita Roja by Gabriela Mistral Version (Spanish)
Nosotros By Paloma Valdivia
El Arbol de Las Cosas by Maria Jose Ferrada
Los de Arriba Y Los de Abajo by Paloma Valdivia
Please stay tuned for the announcement for the launch in September 2019.





We're Nominated for the Astrid Lindgren Memorial Award
for the 8th consecutive year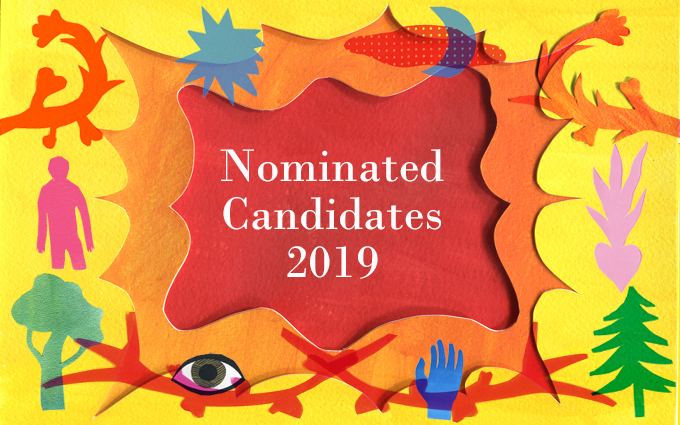 We are both honoured and humbled to be nominated for the Astrid Lindgren Memorial Award for the 8th consecutive year! The nomination, among the top 235 people / organisations from 60 countries around the world, is itself a recognition for us!
A&A Book Trust is in the World Book Fair Jan 6-14,
in E U Pavilion, in Hall No 7, with the Embassy of Sweden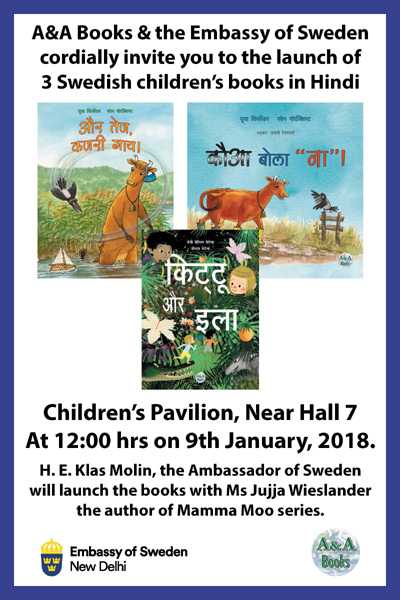 "Adopt a Library" Project Creates a Milestone 2016-17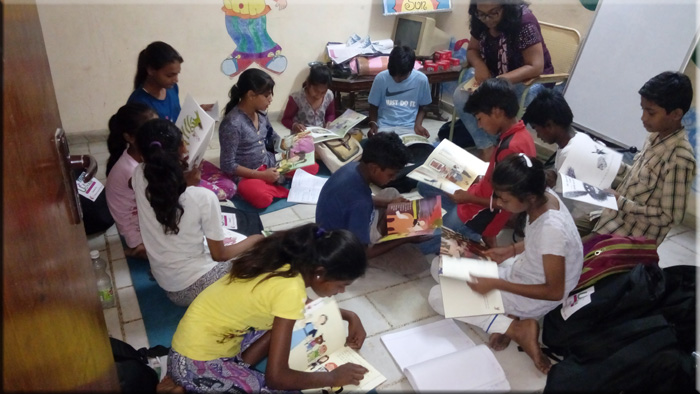 We are frequently approached by NGOs in different parts of the country, working for children's education and its reinforcement with reading. Most of them have a limited library budget or none at all as library is seen as one-time expenditure. Not having recurring support to buy books most libraries turn uninviting with the same set of books for several years. This results in a sharp drop in the number of children using the library, thus defeating the very purpose of running a library.

That led us to "Adopt a Library Campaign" in which we donated book sets of select titles from different publishers recommended by CBSE. This set of attractive multicultural books in Hindi and English, also in local languages wherever possible, was donated to an adopted children's library newly set up.

We could cover all the 35 schools of SOS across the country and add 100 school / NGO libraries to the list taking the number to 135 with the help of book donations from Muttathara, an organisation working for the disadvantaged internationally and Sven Nordqvist and Eva Alander who actually put these in the hands of the children in 9 different Indian states!!

This helps us take our books to a million early readers and it feels great to see so many happy faces actually enjoying the books!!



February 2016: Adopt a Library Campaign!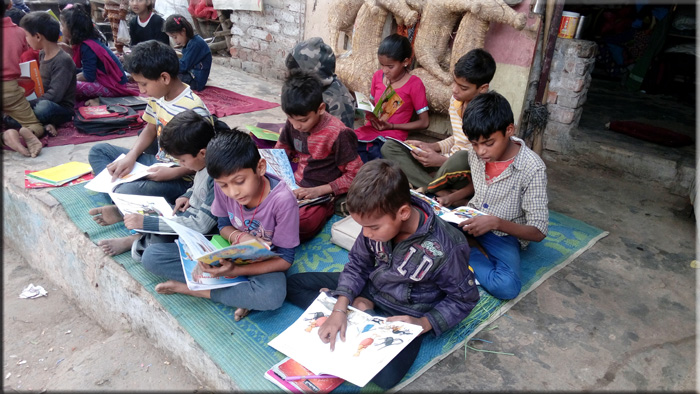 Celebrating Fiep Westendorp's 100th Birthday


Jip & Janneke: Two Kids from Holland Come to India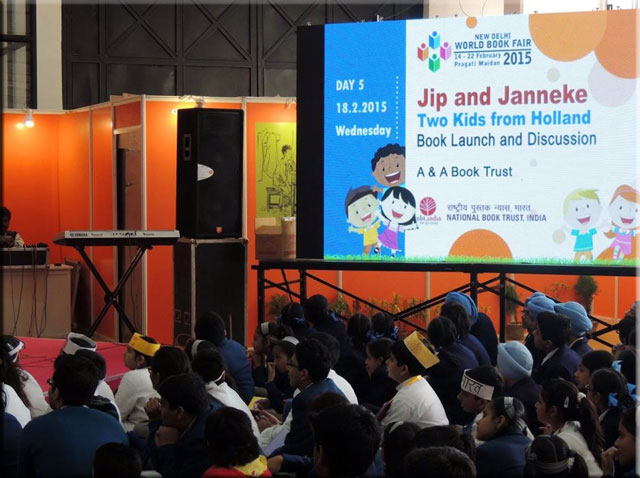 With the Netherlands embassy and the National Book Trust, New Delhi, we launched the the Hindi & English editions of the modern Dutch Classic Jip & Janneke: Two Kids from Holland, in the World Book Fair, on the 18th of February. The event was attended by 150 people young and old, and nine children put forth their thoughts about the book.

Mr Ambassador Alphonsus Stoelinga with his characteristic geniality and friendliness tried to speak to children using liberal Hindi sharing some interesting facts about Holland in a playful style.

The support from the embassy enables us distribute 10,000 copies free to NGOs including Room to Read, Navoday Schools in all the districts, Delhi Government schools, Chirag, CanSupport, 17000 Feet Foundation, USNPSS working for education across the country.

A lovely book reaching hopefully more than a million children, what a joy!!



Delightful Exchange with Zakiya & John Kurien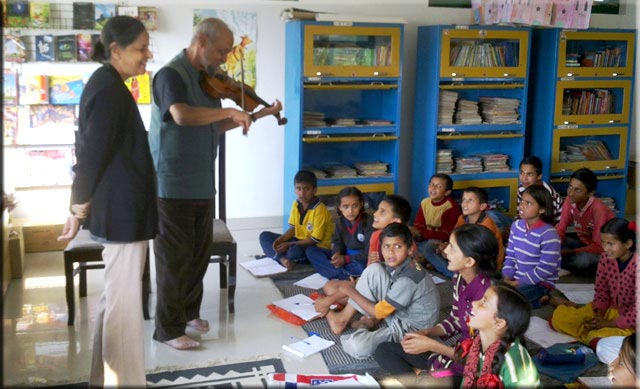 Our educationist friends Zakiya & John Kurien from Pune, visited Shitala for a few days i.e. 27-31 May 2014, and had a delightful exchange with children learning to speak English using the CLR Radio course. Children sang along some songs and had their first opportunity to listen to violin being played.



New Year Party 2014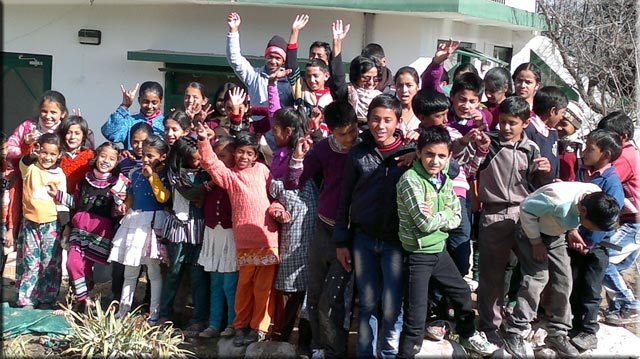 New year's eve was gray and snowy white. We were glad to clothe our children in warm woollies, thanks to Raija Stolbow (Finland), Maria Coelho (Goa) and Tineke Van der Svelt (Netherlands).

We brought in the new year with a party for 58 children and adults in the sun... The children sang and danced merrily and the adults shook their booties! There were whole lot of goodies and laughter to share!!



Warming up for Winter 2013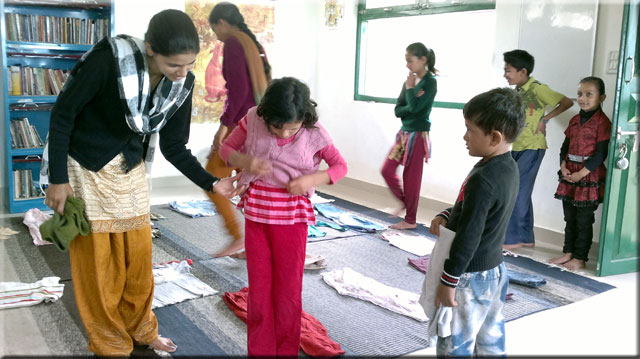 Many thanks to our friends who responded to our appeal for warm clothes for the Shitala children!! Our three young volunteers Deepa, Anandi & Geeta helped children choose. We could provide warm clothes to more than 35 children in Shitala who really have to brave strong winter in Shitala... Many thanks to Archana Khanna, Manasi Joshi, and Scholastic family!! Our warmest thanks go to Raija Stolbow for sending us real warm caps and socks for the children all the way from Finland!!



Could there be a Happier Occasion for a Book-Lover?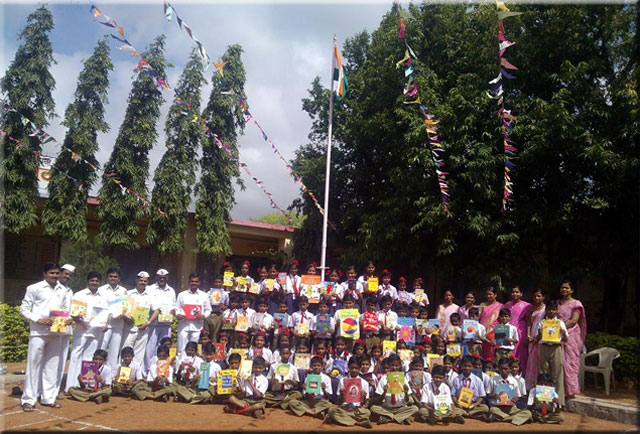 Students and teachers of Z P School Jamgaon, Maharashtra, had a surprise waiting for them on this independence day. A & A Book Trust presented them a cartonful of happy, cheerful books which were distributed among the children and you can read the sheer joy on their faces!!



Maja Comes to India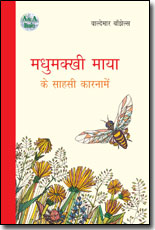 In 2012, the modern German classic, The Adventures of Maja the Bee by the author Waldemar Bonsels, celebrated its 100 birthday. This has Maya a fun-loving, adventurous little bee as the central character, and she is out to discover the big world all by herself...

In German families, Maja has a special place in the hearts of grown ups and the children alike. The book has been translated into several languages of the world and is now we present a hindi translation which was launched in collaboration with the Goethe Institute, New Delhi and the Nehru World School, Ghaziabad.



AABT Scholarships


One very important stumbling block in the educational growth is parents' ability to pay for it. We had decided to pay for the further education of mainly the girls in the region. We will start a regular process of inviting applications and screening these for 2012-13.



But we did make a very deserving beginning this year. Our first scholarship goes to Rohit Bisht, village Chhatoula, our star reader of the year to join Kendriya Vidyalaya, Mukteshwar. Rohit has been a student of Chirag School till grade 5. The Chirag School is till grade 5, and he hailing from a poor family, he was at a loose end with free government school as his only option. We met the principal of the school to facilitate the admission and paid his fees, books and stationery, making a commitment for the next 2 years and the scholarship will continue after evaluation of his performance annually.

We need donors for this year on year. The scholarship is €900 or $1200 (for seven years i.e. grade 6-12). Please spread the word among the friends who would like to help. The donors will get all the receipts of the fees/books and a copy of the annual report of the school.

We can't take on the system which we know full of flaws like corruption... nor can we solve all the problems. But we can join hands to create pockets of clean, mentally healthy society which we need not be defensive about but be proud of.

We do hope that this goes a long way in changing a few lives in the foreseeable future!!



World Girl-Child Picture Books Project: A Concept Note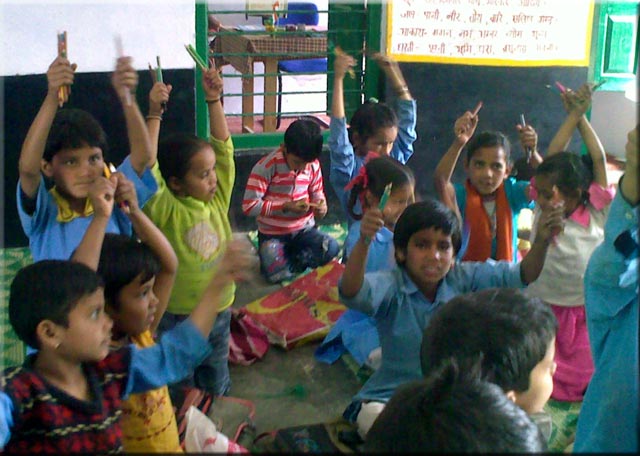 In a typical Indian situation, the gender inequality is still at work especially in the way parents look at the girl child. Through years of social conditioning, the female child is generally perceived as a burden on her parents' resources whereas the male child is celebrated as the for reasons rooted in age old social conditioning. Despite the legal machinery in place i.e. right to equal opportunity, and now, right to education, the girl child is often discriminated against, at times subtly and more often than that openly.

This needs to change. To play a role in bringing about a change in the thinking of both the family and the girl child herself, A&A Books has taken up a pilot project to introduce a series of picture books with girl child at their nucleus, effectively reflecting that gender-based discrimination is unfair, and certainly not the way forward.

Work Plan:

The original goal for 2011-12 was to publish a set of 12 picture books in Hindi, and English focusing on the girl child to address the families both in cities and small towns. Owing to the overwhelming response especially the support from organisations like FILI (Finland), Norla (Norway), NPVFL (Netherlands), VFL (Belgium) the number of books will be 24.

Do stay tuned with our website to catch up with us on the books coming out every month.

The books have contemporary themes, and thus easier to relate to.

The objective is to creatively give this sensitive message, drawing on the world talent.

Having the books from different cultures also provide universal acceptance of the fact that girl child is an equal, globally.

The books will be translated into various languages of India, with respective co-publishers, and also for specific need-based requirements.

The books will all be in paperback, and the cover price for each of the titles will be around Rs 60.
An effort will be made to share this project with as many organisations as possible within and outside the country, at different stages of its development, to create a network of inputs, for selection, and also sponsorships for the Hindi edition.

We will welcome ideas for co-publishing in different languages for this project!!